About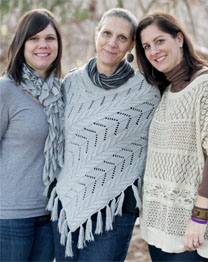 Daughters Erin and Kelly, (left and right)
with Suzanne, fall 2011
We are not funding the cure, but rather the war!
Our volunteer fundraising efforts allow us to provide immediate financial relief to our neighbors who are battling cancer and their families. We do not give money to research; rather we provide direct financial support to cancer patients who are struggling to pay every day expenses like rent/mortgage, groceries, childcare or other necessities in Westchester and Putnam Counties.
All of the members of Suz Crew are volunteers, which means more of what we raise can go directly towards helping ease the financial burden that battling cancer can have on families. Our volunteers give generously of their time, talent and, yes, even money.
Suz Crew assembled informally in 2011 after my mother, Suzanne Longo Duke, was diagnosed with a very rare form of cancer called Leiomyosarcoma. Friends and family rallied around her and I after the diagnosis and subsequent battle.
Suzanne fought harder than any solider I have ever known, but sadly on April 20, 2012, she lost her battle with cancer. Inspired to continue to make a difference, Suz Crew became a 501c3 non-profit organization less than a year later. It was created to honor my mother's spirit and to raise money to directly support other families who are so bravely fighting cancer themselves. We know first-hand what that's like, and we're here to help.
A tribute to you mom, the best there ever was.
Kelly McKinley
President
The Crew
Board of Directors
Kelly McKinley President
William Duke Vice President
Erin Duke Secretary
Gerry Anne Dalton Treasurer
Priscilla Lennox Fundraising Coordinator
Rachel Andersen Sales & Merchandising Manager

Assistance Advisory Board
William Duke
Roberta Duke
Peter McKinley
Committee Members
Karen Juliano
Stephen Lennox Sr.
Michele Marona
Maggie Pinque
Patty Wongpakdee
Medical Advisory Professional
Jennifer Olstrom