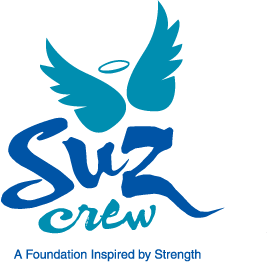 Suz Prayer Shawls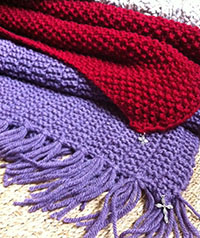 Have you ever heard of a prayer shawl? A prayer shawl is used in many faiths and traditions to wrap around one's shoulders, or even drape over one's head, to create a sacred space in which to meditate, pray or reflect.
Do you know of someone who needs to be comforted, embraced with well-being and cradled in peace and love? Each of our prayer shawls is packaged in blue tissue and includes a special blessing for the recipient. If you would like to send someone a prayer shawl, free of charge, please email us at info@suzcrew.com.
Do you knit or crochet? Would you like to create a prayer shawl for Suz Crew? Each shawl should be approximately 22" X 65". Fringe/no fringe, color, knit/crochet, all totally up to you. We love that each shawl is different depending on the person who makes them. Shawls can be dropped off locally or shipped. Please email us at info@suzcrew.com for more information. Thank you for your kindness, we are always honored to pay your thoughtfulness forward.